If you're looking for climate-friendly sneakers for your summer, we recommend the Allbirds Tree Runners. After researching and comparing 10 different shoes, we think it will meet most people's summer needs.
Allbirds Tree Runners
Light and breathable, the Allbirds Tree Runners are excellent all-around shoes.
Despite their relative youth in the sneaker market, Allbirds have set themselves apart as a standard bearer for the sustainable sneaker aesthetic. The Tree Runners are a definite improvement over their original Wool Runners and provide all of the comfort and versatility you're looking for in a new pair of sneakers for the summer.
---
Veja V-10
Upcycled materials and a retro silhouette make the Veja V-10 stand out from the pack.
The French footwear company Veja prides itself on its use of upcycled materials and reduction in animal products in their shoe designs. The V-10s are their standout. With a simplistic but classic retro feel and the brand's staple 'V' emblazoned on the side, the V-10s are one of the moment's hit sneakers at the moment and one you can feel good about purchasing.
---
Saola Semnoz II
Similar to the Allbirds Tree Runner, the Semnoz II sacrifices some breathability for lower cost.
With a similar look and feel to the Allbirds Tree Runners, the Semnoz II offer a bit more in terms of support and versatility, but a bit less in terms of comfort and breathability. While the starting price point is comparable to the Tree Runners, certain models can often be found discounted on Saola's website, making this quality summer sneaker a more affordable pick.
---
Adidas SL20 Primeblue
Made with recycled ocean plastic, the SL20 is a high-performance running shoe with a relatively low footprint.
Through their partnership with Parley for the Oceans, Adidas has created the SL20 Primeblue with material made from recycled plastic that gives the shoes their distinctive lightweight feel. These performance sneakers, designed specifically for running, are an environmentally-friendly option for those who prefer "athleisure" shoes—footwear that meet the demands of rigorous activity and casual comfort.
Why these are the most climate-friendly sneakers
Sneaker companies have had an obsession with environmental awareness for several years now, but only recently has that obsession translated into more meaningful action. Top-selling shoes on both Nike and Adidas marketplaces tilt climate-friendly, and many shoe brands have cropped up in recent years with efforts centered on sustainability.
This sudden shift toward sustainability comes amid a growing recognition of the sneaker industry's massive carbon footprint. According to a Quantis fashion global impact study, the footwear industry contributed 700 million metric tons of carbon dioxide equivalent to the environment, or about 1.4% of the global climate impact. That's a little less than half the impact of flying, an industry that receives far more scrutiny.
Footwear's environmental impact is due in large part to how complicated it is to manufacture most sneakers. A 2013 MIT study found that your average running shoes had a footprint of 30 pounds of CO2. The vast majority of these emissions come from manufacturing, in part because running shoes at the time took 360 steps to put together their 65 different parts.
That's beginning to change. Now, consumers can find a plethora of eco-friendly options. However, when it comes to a company's actual footprint versus what they advertise, there's a lot of posturing and skewed information to wade through. (You'll often hear this referred to as "greenwashing.")
We cut through the greenwashing to find shoes that feel great and meet your environmental standards. Our picks are informed by the reviews and analysis of other professional networks, but also by our own research into the environmental footprint of a number of popular, climate-friendly shoe companies.
On the usability side, we compared user and expert reviews, company information and data from other independent sources to produce ratings in five categories—comfort, versatility, design, weight, and price.
On the environmental standards side, we analyzed information provided by companies for ratings in six categories—eco-friendly materials, manufacturer energy use, durability, recyclability/waste, transparency, and packaging.
We combined both the environmental and functionality ratings into one final score for each shoe we researched. We then ranked shoes based on this overall total and called out shoes with more specific aims based on the ratings in individual categories.
Methods and Results
Why trust us
We spent over a month collecting data and researching ten different shoe brands, all of which come with claims of "environmental friendliness," to inform your buying decision.
Outside our own personal experiences with various designs of sneakers, we catalogued reviews from a number of professional review sites, including RunRepeat, Runner's World, SoleReview, and The Savvy Backpacker, among others.
We also looked at user reviews of each model of shoe, both on company sites and other marketplaces like Amazon or Zappos. This helped us get a better overall sense of how a wide range of consumers experience the shoe. (Is it better to shop online or in the store? We broke it down.)
We drew environmental information from a variety of sources. We incorporated data provided by specific shoe companies about their material and manufacturing processes, and we turned to research papers to gauge whether or not one material is more environmentally friendly than another. Some literature we found useful during this process was an environmental assessment of textiles by Hsiou-Lien Chen and Leslie Davis Burns of Oregon State University as well as the "Measuring Fashion" report from Quantis. We pored over all this data in aggregate and tallied our scores. This allowed us to provide representative scores based on qualitative and quantitative analysis to give you an unbiased pick.
Who should get this
The sneaker market is generally driven by trends and consumers' demands for fashion. However, as part of the bend toward sustainability, the majority of consumers now see product quality as the main driver of their footwear purchases, and more consumers are willing to spend more on brands that align with their personal values—sometimes called a "sustainability imperative.".
We considered this sustainability imperative alongside other consumer trends and carried out an in-depth look at sneaker brands claiming environmental friendliness. From more stylish, trendy brands to rugged outdoor footwear, our choices cover a wide range of options.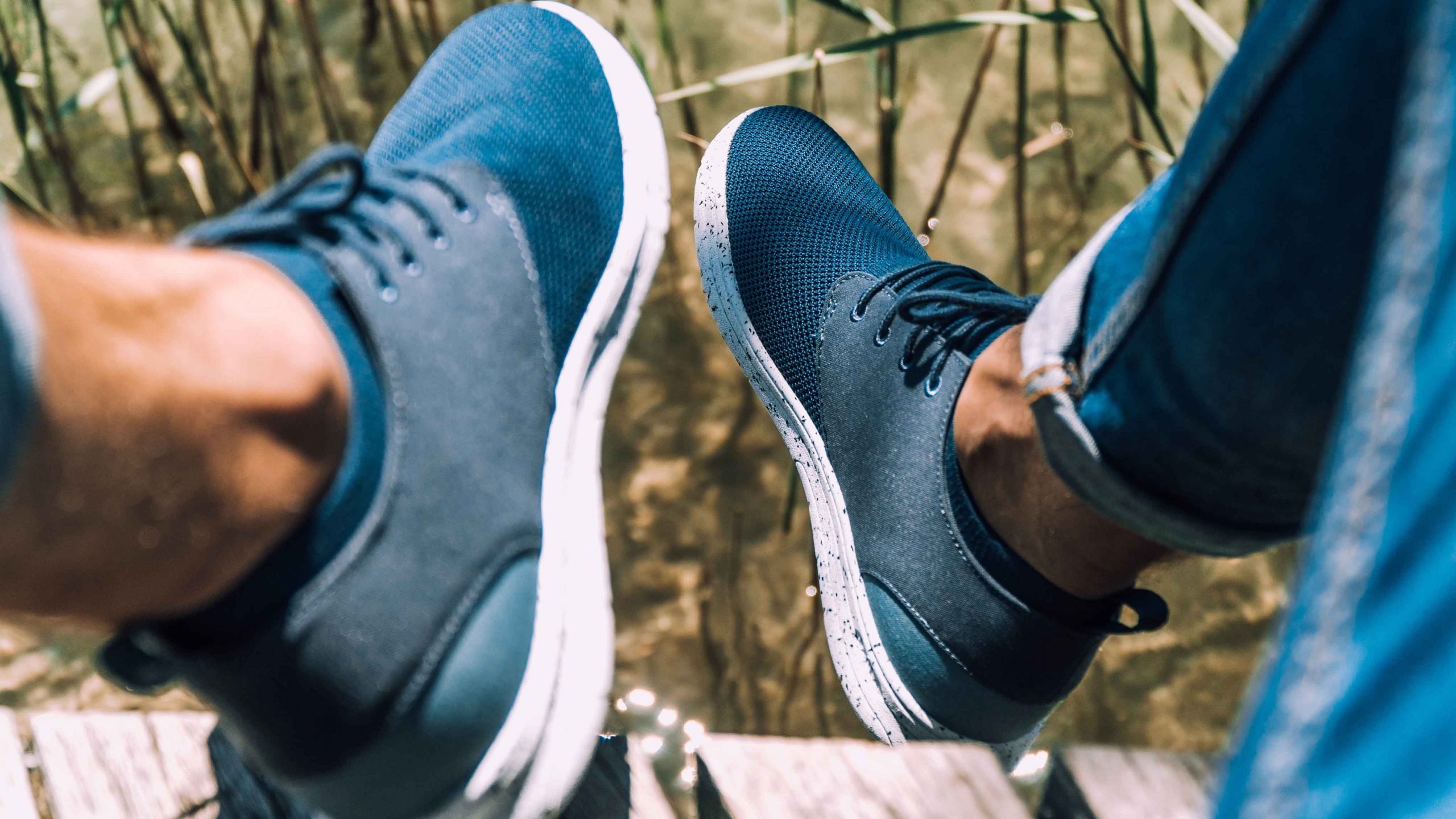 We also know that the summer months are hot and growing hotter as global warming becomes more apparent. Combine that heat with more time spent out-and-about—showing off your new kicks in the sunshine—and you end up with lots of people looking to purchase a new pair of lightweight, breathable sneakers.
So, if you're in the market for a new, quality pair of sneakers to get you through the more rigorous summer months; if you want your shoes to be environmentally friendly while also being lightweight, durable, and relatively inexpensive; if you want to grab a new pair of sneakers that look really good in the sunshine, we're here for you.
How we decided
When looking at sneakers specifically for the summer, you should consider several different factors. Generally, you want your summer footwear to be lightweight, breathable, and versatile. The summer months come with long walks through the city, hiking trips around a lake, or strolls around festivals, carnivals, and fairs (the latter will return someday—we promise). All of these activities demand a lot from your feet and require a different type of footwear than would be worn in the winter, spring, or fall.
Further, as the shoe market shifts toward more climate-friendly designs, more data about material footprint, manufacturing, recycling, packaging, and other factors has become available. When we took the time to aggregate it all and compare different shoe companies, it was clear which ones were coming out on top.
To ensure our decisions were rigorous and informed by data, we created two categories to analyze, environmental impact and functionality, with six sub-categories in environmental impact and five sub-categories in functionality. Here are the details for each sub-category:
Environmental impact
Eco-friendly materials: How environmentally friendly are the materials used in a shoe. Some are naturally better for the environment than others, and companies that utilize these materials received a higher score.
Manufacturer energy use: How much energy is used to make their shoes. Manufacturing shoes can be energy intensive. That energy can be generated by carbon-heavy fossil fuel sources, by fossil fuels coupled with carbon offsets, or by renewable power alone. If a company uses less energy and their shoe production has a lower carbon footprint, that shoe will get a higher score in this category.
Durability: How long a shoe lasts. If a shoe has a longer lifetime, it means you won't have to buy as many pairs, which cuts down on the environmental impact of footwear production. If a shoe lasts longer, it will have a higher score in this category.
Recyclability and waste: How easy a shoe is to dispose of. Some companies offer recycling options through their websites or return options for shoes that they will dispose of in proper ways. What's more, some shoes are made with materials that are easier to recycle than others or that degrade faster than others. Shoes that hit these marks will have higher scores in this category.
Transparency: How transparent a company is about their environmental practices. Some companies provide in-depth looks at their production methods, including statistics related to their emissions. Others may advertise like they have environmental goals in mind, but not fully reveal their methods for reaching these goals. Higher scores in the category go to companies who provide full information about their manufacturing practices.
Packaging: What packaging a company uses for shoes. Some materials are more environmentally friendly than others, and some are more recyclable. Some shoes come with less packaging, which offers a lower footprint. Shoes with less packaging that's easier to recycle will have higher scores in this category.
Functionality
Comfort: How the shoe feels on your feet. Shoes that are easy to wear, hug your feet, support your ankles, and don't wear out while wearing them earn a higher score in this category.
Versatility: How useful the shoe is during different levels of activity. If a shoe works equally well for an afternoon walk, a morning job, a day out running errands, a hike in the forest, or a day on the beach, it will get a higher score in this category.
Design: How a shoe looks and how varied its design is. This is a largely subjective category, but there are some silhouettes that we all know just don't look good. Design options include colors, soles, tongues, laces, etc. Shoes with sharper design and more options will get a higher score in this category.
Weight: How much a shoe weighs. Generally, lighter shoes will get a higher score in this category since lighter shoes are nicer to wear and have fewer materials, thus a lower carbon footprint. However, certain styles necessitate a heavier weight; we did not score those more harshly.
Price: How much a shoe costs. Lower prices will get a higher score in this category.
| | Max points available | Allbirds Tree Runners | Nike Space Hippie | Saola Semnoz II | Veja V-10 | Adidas SL20 Primeblue | Merrell Gridway | Adidas Ultraboost 20 | Nisolo Cortez Mid | Nike Air Max 90 | Sperry Bionic Striper II |
| --- | --- | --- | --- | --- | --- | --- | --- | --- | --- | --- | --- |
| Environmental | | | | | | | | | | | |
| Eco-Friendly Materials | 25 | 23 | 24 | 22 | 22 | 19 | 20 | 12 | 15 | 10 | 17 |
| Manufacturer Energy Use | 20 | 20 | 19 | 18 | 17 | 15 | 16 | 15 | 17 | 19 | 16 |
| Durability | 10 | 8 | 7 | 9 | 8 | 10 | 8 | 9 | 10 | 7 | 7 |
| Recyclability/Waste | 10 | 7 | 10 | 5 | 7 | 9 | 8 | 8 | 8 | 7 | 5 |
| Transparency | 5 | 5 | 5 | 4 | 5 | 4 | 4 | 4 | 5 | 3 | 3 |
| Packaging | 5 | 5 | 5 | 3 | 5 | 3 | 3 | 3 | 3 | 4 | 5 |
| Subtotal | 75 | 68 | 70 | 61 | 64 | 60 | 59 | 51 | 58 | 50 | 53 |
| Functionality | | | | | | | | | | | |
| Comfort | 10 | 9 | 6 | 8 | 7 | 7 | 10 | 8 | 8 | 7 | 5 |
| Versatility | 10 | 6 | 4 | 7 | 6 | 9 | 3 | 10 | 6 | 9 | 3 |
| Design | 10 | 7 | 10 | 8 | 9 | 4 | 6 | 10 | 6 | 6 | 3 |
| Weight | 5 | 5 | 2 | 4 | 3 | 4 | 2 | 4 | 2 | 3 | 1 |
| Price | 15 | 12 | 7 | 11 | 9 | 10 | 9 | 4 | 6 | 10 | 15 |
| Subtotal | 50 | 39 | 29 | 38 | 34 | 34 | 30 | 36 | 28 | 35 | 27 |
| Total | 125 | 107 | 99 | 99 | 98 | 94 | 89 | 87 | 86 | 85 | 80 |
Allbirds Tree Runners
Light and breathable, the Allbirds Tree Runners are excellent all-around shoes.
Why we like them
Of the numerous sustainable brands that have cropped up recently, Allbirds and their iconic Tree Runners have set themselves apart for a number of reasons.
The Runners' sleek and minimalist design takes cues from Allbirds' original wool sneaker, which set the tone for how an eco-friendly shoe should look. Many other brands have incorporated parts of the design into their shoes, notably the mesh uppers and thick foam soles.
While not offering much in terms of heel or ankle support, reviewers found that the mesh uppers and tight-fitting laces give the shoes a snug feel. The Tree Runners can be worn with or without socks, a great mark for their comfort and breathability. And the shoes are extremely lightweight, the lightest of all shoe models we looked at. Overall, these everyday tennis shoes see their highest marks in the comfort category. Plus, they come with over 10 different color combinations, many more than other sneakers we looked at, so you'll have plenty of styling options.
While the Tree Runners' design may not support more strenuous activities, they reportedly excel at long walks on city streets, and they transition wonderfully into the office. For a comfortable work sneaker, one that feels great and also carries a trendy minimalist design, the Allbirds Tree Runners are hard to beat.
Why you can feel good about them
Allbirds uses a variety of sustainable materials in the creation of their shoes, including recycled water bottles for the laces, tree fiber for the uppers, and sugarcane for the foam. These materials are beneficial for the environment as using bottles stops plastic from getting to the ocean or languishing in a landfill, tree fiber uses 95% less water than synthetic materials, and sugarcane is 100% renewable.
Allbirds also provides a transparent look at the impact that their shoes have on the environment. They release a carbon footprint for each model, and they detail what they are doing to achieve carbon neutrality. Currently, Allbirds offsets all carbon emissions by purchasing carbon credits that allow their shoes to be carbon neutral.
Who else likes them
The Savvy Backpacker gave the Allbirds Tree Runners an extended review after several weeks of testing, including a two-week trip to Spain. The site notes that they "feel 'beezier' than the wool versions" and are "great shoes for everyday wear."
Several reporters from Business Insider Reviews wore the Tree Runners regularly for two years and all offered similar sentiments about their experiences—"perfect for all-day wear," "lightweight and breathable," and "easy to clean."
On the Allbirds website, 221 reviewers give the shoes 4.8 out of 5 stars, with reviewers noting the Tree Runners as "the most comfortable pair of shoes I have ever owned" and "my go-to shoes for almost every use."
What could be improved
Allbirds doesn't offer half sizes for many of their styles, which may leave you a little lost if your feet fall in between sizes. Their shoes are reportedly true-to-size, so your sizing choice ultimately depends on whether you want the shoes to fit more snugly or if you want a little more room. Wearing the shoes with or without socks should also inform this sizing decision. When in doubt, break out the ruler to measure your foot and compare the result with their sizing chart.
While Allbirds has recently moved into the performance space with their Tree Dashers, the Tree Runners lag in terms of pure performance. Without much heel or ankle support, we wouldn't feel totally comfortable using the Runners for strenuous activity. Of course, adding more support would add some weight, so for a lightweight option less support is alright.
Lastly, while we applaud Allbirds' carbon disclosure efforts, we'd like to see more details about their life cycle assessment tool. Currently, we could not find information on whether Allbirds' methodology is based on any international standards (e.g. ISO 14040). Adhering to them so would simplify future comparisons across the industry.
Veja V-10
Upcycled materials and a retro silhouette make the Veja V-10 stand out from the pack.
Why we like them
Of all the shoes we looked at, Veja's V-10 stands apart as the most sophisticated, trendy and fashionable sneaker on our list. This is thanks to their slim, retro design, as well as the distinctively large "V' featured on the side of the shoes. While the "V" makes the brand, the overall design of the shoe makes it stick.
The look of the shoe feels very '80s, and at the moment that's a good thing. There's been a definite retro trend in the sneaker market for the past few years, and the V-10s meet this trend beautifully.
With distinctive, colorful heel padding and a thicker sole compared with other Veja models, the V-10s are more versatile and more comfortable. While the shoes may not feel as lightweight or breathable as their more all-around sneaker counterparts, reviewers say they're a comfortable strolling shoe.
Veja is a French brand that has been around for over 15 years now, but they are just starting to see their consumer base take off thanks to fashionably retro trends. If you're okay with sacrificing a bit of utility for a more fashion-oriented pick, then the Veja V-10s are for you.
Why you can feel good about them
Veja was built on the idea of sustainability. Veja maintains their commitment to sustainability through upcycling and the purchase of organic materials. Veja reuses items that would normally be headed to a landfill or end up in the ocean, such as leftover cotton from the textile industry or plastic water bottles. They even created their own sustainable materials, such as B-mesh, which is reportedly the first upper to be made entirely from recycled plastic bottles, as well as CWL, a vegan leather alternative made from cotton and a corn-based coating.
Veja is one example of a company that is not only moving towards sustainability but also moving away from the use of animal products. The V-10s come in a variety of vegan options. If that is important for you, the V-10s may be your ideal environmental and ethical choice.
Who else likes them
Megan Markle for one. The Duchess wore the V-10s for a boating trip around Sydney in 2018, and the following week online searches for the brand rose 113%. Fashion Jackson says that "Veja sneakers are some of my absolute favorites," noting that the V-10s have "great arch support" and that "they don't need breaking in whatsoever." Sarah Spellings, from New York magazine's The Cut, writes, "Sartorially, they're similar to Sam Smiths and New Balances, in that they go with anything and appeal to almost everyone," while praising the sneakers for their ethical production and Veja for their brand transparency. Out of 453 Google aggregated reviews, the Veja V-10s received a 4 out of 5 stars.
What could be improved
The V-10s seem to be a mixed bag of comfort. Some users reported that the shoes felt great right out of the box and were comfortable enough to wear walking around for long periods of time. Other users found the shoes pretty uncomfortable, with many noting the tongue as a primary source of discomfort.
As well, users noted the shoes as feeling a bit heavy and not very breathable. These wouldn't be good shoes to wear without socks, especially because of the extended heel.
Working to incorporate more mesh into the design could alleviate some of these comfort and breathability issues, and there is certainly a precedent for using mesh in an environmentally friendly way.
Lastly, we'd like to see more data from the company about the impact of it's practices. Though its approach is likely to yield a lower carbon footprint than competing brands, greater transparency would help confirm that.
Saola Semnoz II
Similar to the Allbirds Tree Runner, the Semnoz II sacrifices some breathability for lower cost.
Why we like them
The Saola Semnoz II's occupy a similar space in our ratings to the Allbirds Tree Runners. However, there are a few differences that separate the two sneakers and offer you different choices.
Both the Semnoz and the Tree Runners can be worn with or without socks, and they are both regarded for their tight fit and general comfort when worn barefoot or otherwise. The Semnoz include extra padding around the laces, giving the shoes a bulkier feel than the Tree Runners.
Inside this padding is a recycled plastic weave that hugs the heel and ankle, sort of like a sock built into the shoe. This is a nice bit of design and helps the shoe's comfort, especially when being worn without socks.
The Semnoz weigh slightly more than the Tree Runners and reportedly feel that way as well. However, added weight can also contribute to a more durable shoe. Part of the heft comes from both the lace padding and comparably thicker heel. However, the soles of the Semnoz aren't as bulky as those of the Allbirds, so your gait may not feel as "bouncy." Despite this lack of response, the Semnoz's added traction adds versatility.
And while the Semnoz IIs retail for $99.95, models are usually on sale for $79.95, making the average price of the shoe fall slightly below that of the Tree Runners. If you like the breathable mesh feel with a bit more bulk all on a slimmer budget, Saola's Semnoz II are here for you.
Why you can feel good about them
Saola is another brand that is committed to using sustainable materials in all of their shoes. Like many other sustainable shoes that you can find on this list, they use recycled plastic bottles for the uppers and recycled organic cotton for their laces.
What reallys sets Saola apart from others on this list is their innovative materials, including the use of algae to help create the midsole of their shoes. The algae, sourced from Bloom, draws phosphorus from agricultural runoff. It's then combined with recycled EVA (a synthetic material), allowing the shoe to be created using 20% less synthetic material. The resulting product releases less CO2 into the atmosphere than virgin EVA.
Who else likes them
Men's Journal offered an endorsement for the original Semnoz shoes, from which the Semnoz II were built and improved upon, noting that the Semnoz are "as versatile as they come," and that "their stretchy 3D mesh uppers help them remain snug with every step." Indie Getup provided a product spotlight of the Semnoz II, noting that, "the Semnoz II's are also very flexible while being supportive." The spotlight also highlights the noticeable comfort provided by the organic cotton used in the laces of the shoes. Other outdoor focused sites, such as The Clymb and REI, also have offered positive reviews of the Semnoz II.
What could be improved
To really compete with the lightweight and breathable feel of Allbirds, which would be especially important for these summer months, the Semnoz should look to cut down on some of the bulk around the laces. Trimming up that outer padding material could offer the shoe a slimmer look and feel, while simultaneously helping the shoe be more breathable and lightweight.
As well, the sole of the shoe is high in traction but low in responsiveness. A slightly bulkier midsole could help the shoe be a little bouncier and easier to walk around in for extended periods. And as with the Veja shoes, we'd like to see more transparency around climate impact—material choices are good, but data is better.
Adidas SL20 Primeblue
Made with recycled ocean plastic, the SL20 is a high-performance running shoe with a relatively low footprint.
Why we like them
The Adidas SL20s stand out in our ranking as a shoe built and designed for athletic performance. Created as a pure lightweight running shoe by Adidas, these sneakers fit nicely in the "athleisure" category of footwear—shoes that can be worn for more intense physical activity or just for walking around.
For a performance-oriented shoe, the SL20s are extremely lightweight, clocking in at 8.1 ounces for a size nine shoe. Adidas's new Lightstrike foam cushioning in the midsole contributes to the lightness while also helping the SL20s feel particularly responsive and bouncy both during runs and extended excursions.
The combined light weight and responsiveness of the shoe grants the SL20s an excellent score in our versatility category. These sneakers easily transition from a day at the office to a brisk evening run after work to a night strolling around the city streets, all without missing a beat.
In terms of comfort, the SL20s reportedly feel snug on your feet but aren't outstanding in pure on-feet comfort, especially compared with some of the other shoes in our research. Again, this is one of the sacrifices consumers would have to consider when looking for what they need out of their shoes—are you willing to trade some comfort, in terms of breathability, for some added performance? If so, the Adidas SL20s are your pick.
Why you can feel good about them
While Adidas shoes are more often known for their performance rather than their sustainability, Adidas is shifting to also emphasize the latter. Adidas is one of the larger companies acknowledging the need to shift toward more sustainable models of production.
This shift is partly realized through their partnership with Parley for the Oceans, a nonprofit focusing on clearing the oceans of plastic. This partnership allows for Adidas to intercept plastic bottles before they reach the ocean and turn them into the uppers for their shoes. Their Primeblue material, which is made from these bottles, uses at least 40% recycled material.
Not only has Adidas partnered with Parley to create shoes made from recycled material, but they have also been included in Dow Jones Sustainability Index for 20 years (and are currently the only footwear company on the list). While the Adidas brand is not built purely on sustainability, it is one of few large companies that is heading toward a more sustainable future.
Who else likes them
Kerry McCarthy at Runner's World likes the shoe at its price point. "It offers both bounce, a reasonably quick heel to toe transition" and "the upper does indeed keep the foot locked in place impressively," he said. WearTesters notes that the SL20s feel reversed, with most of the weight being in the upper part of the shoe instead of the sole thanks to the Lightstrike foam. "It's a full package of support despite the lightweight nature of the shoe," site founder Drew Whitcomb said. Several reviewers on Adidas's website love the lightweight feel of the SL20s as part of their running shoe collection.
What could be improved
Personally, we're not in love with the design of either of the two SL20 models. The gray model is definitely better looking, but certainly isn't anything to rave about, and the black model is less appealing, with contrast stitching running below the laces and a tapered blue-on-white midsole. The result is a little busy. Our minimalist preferences are not hitting with the SL20s.
As mentioned above, what the shoes add (or subtract) in weight, they lose in comfort. Many reviewers mention that the shoes feel tight and should be avoided by people with naturally wider feet. As well, the shoes begin to feel heavier and hotter with more time on feet, especially for longer stretches, because the design doesn't include much space for breathability.
The competition
There are hundreds of sneakers out there, and most of them are functional, stylish, or both. We focused on models that are making efforts to move the textile industry in a more sustainable direction, as well as their exceptional functionality and overall feel.
This doesn't mean that other shoes that were not included in our picks couldn't be the right shoe for you—in fact, you may find your best option falls outside of our four choices above.
One of these options is the Adidas Ultraboost 20. While they may not direct competitors to the Adidas SL20, the Ultraboosts may better suit your tastes. The Ultraboosts offer numerous design options so that everyone can find a model to their liking. While they're not designed as a pure running shoe like the SL20s, they are one of the more comfortable and versatile options that we found—a tried and true example of an "athleisure" sneaker.
The Merrell Gridway is another option for those looking for a sustainable shoe, but who are not a fan of the Allbirds. The Gridway didn't make our picks because it is not a running shoe, and thus it's less versatile than our other picks, including the Tree Runners. It's unlikely to be used for more than just casual walks around the park or runs to the store. It does have extra heel support and snug laces, but we didn't find it as stylish as its two closest counterparts in our rating—the Tree Runners and the Semnoz IIs. Despite these minor faults, the Merrells scored well in our ratings for their use of eco-friendly and recyclable materials. If comfort is of utmost importance, and you aren't looking for a shoe to push too hard, then the Gridway may be the eco-friendly option for you.
For those focused on style, an eco-friendly alternative to the Veja V-10s is the Nisolo Cortez. Nisolo is known for providing fashionable shoes mostly made of leather, and while leather is not often associated with sustainability, Nisolo emphasizes their use of sustainable and ethical manufacturing practices. The leather employed in their shoes is waste from the meat industry, and they make sure to only use vegetable tanning in their production. Moreover, leather is a very durable product, so buying a pair of Nisolo shoes likely means that you will not have to buy more in the near future. The Cortezes provide a stylish sneaker option that can be used for casual wearing or in more formal settings. As opposed to the low-top V-10s, the Cortez are mid-top sneakers that provide a unique look for a variety of occasions.
Other shoes we considered but which didn't score high enough to make our top picks were the Nike Space Hippie and the Sperry Bionic Striper. They're notable for the sustainable innovations in their designs, but we ultimately didn't include them in our picks for different reasons. The Space Hippie is a very new shoe that had great sustainability scores, but it's novelty makes it virtually impossible to find at the moment. The Sperry Bionic Striper is an interesting shoe that combines the classic Sperry look with the sustainable use of ocean plastic, but we found the shoe to not be nearly as functional or environmentally friendly as it might seem.
Another shoe we looked at was the Nike Air Max 90. Nike's Air Max shoes are a staple in the sneaker market with 12 different models, and while the classic design is created by a company that is holding itself to lofty sustainability standards, the Air Max 90s don't include any environmental innovations. We instead chose to analyze the Air Max's as a baseline for a standard sneaker and a point of comparison for other shoes. They fell outside the top choices in our ratings.
What to look forward to
Both industry-leading brands and market up-and-comers are pushing sustainable innovation in the sneaker industry, thanks in large part to you, a more conscious consumer base.
A report completed by NYU's Stern Center for Sustainable Business found that between 2013 and 2018 sustainability-marketed products delivered 50% of the packaged goods market's growth, despite only having a 16% market share. And more consumers are looking to support brands that align with their personal values, with the environment often at the forefront.
Allbirds are the clearest example of sustainability's rapid market dominance in the footwear industry. The company, which topped our ratings, was founded in 2014 as a crowdsourced, venture capital-backed seed corporation with a $119,000 investment. Four years later, at the end of the third quarter in 2018, Allbirds reported a $1.4 billion valuation, thanks in large part to a simple direct-to-consumer approach that initially kept investors away.
Now, more companies are entering the market and mimicking Allbirds' model, several of which are included in our ratings—Saola, Merrell, and Veja, to name a few (although Merrell and Veja have been around for longer). It's the intentional design choices and sustainability-centered marketing that have driven the growth of these sneaker brands.
Certified B Corporations like Allbirds have pushed industry leaders for years to reconsider their sustainability efforts, and now Adidas and Nike have committed to more lofty ambitions for the future of their footwear products.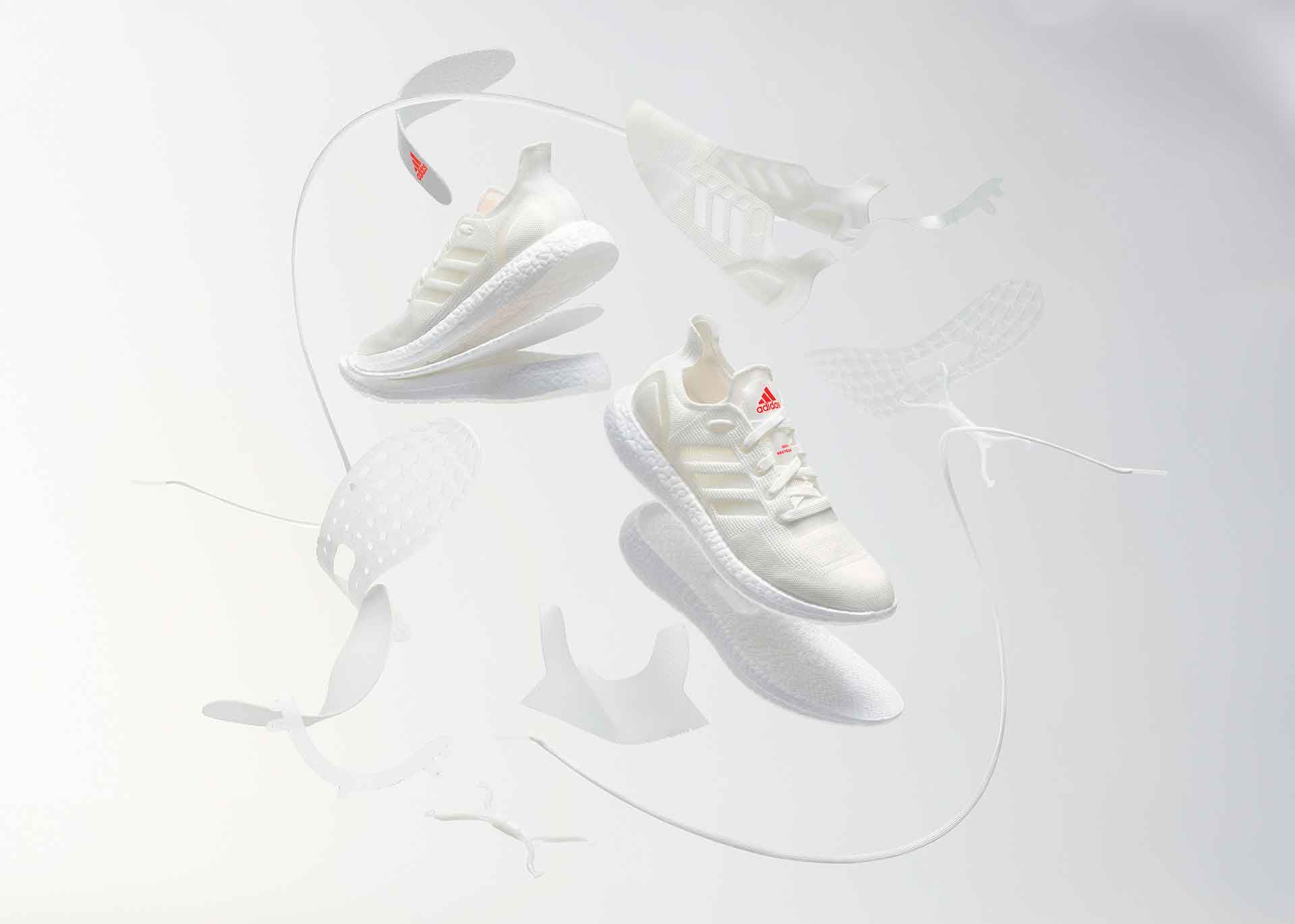 Adidas has announced plans to shift to 100% recycled polyester in all products by 2024 while working to achieve complete carbon neutrality by 2050. More product based innovations are on the way at Adidas as well, such as the Futurecraft Loop, a 100% recyclable shoe that is currently set to release in spring 2021.
With the success of the first generation of their Space Hippie, Nike is undoubtedly looking to extend the line. Nike-owned Converse, for example, has announced a new Chuck Taylor All Star Crater with 40% recycled material by weight.
What else we discovered
While completing our research, we developed a firm understanding of the importance of understanding the social, ethical, and environmental impacts of shoe production.
Some companies such as Nisolo and Veja make it a point to be transparent on the way that the workers who make their shoes are treated. They provide fair wages, good working conditions and fair hours to the employees of their factories. This provides their employees a workplace where they are treated fairly and while providing for their families without needing to work a crippling amount of hours.
Many industries, including the textile industry, have a tarnished reputation, one that comes from having treated their workers poorly. While we focus on climate impact, we don't ignore the importance of social and ethical issues. For example, Nike famously was the target of anti-sweatshop campaigns in the late-1990s and early 2000s, and that scrutiny led the company to improve conditions in its factories and provide access to independent auditors. It is important to acknowledge companies that place an emphasis on fair working conditions and shine a light on those that are deficient.
It is often not enough to simply use clean materials in production if the manufacturing processes are not handled with social and ethical responsibility. Moreover, it's the manufacturing process that contributes most significantly to the footprint of these footwear companies. While material innovation is necessary for more sustainable production, the manufacturing side deserves just as much attention.
Sources