To upgrade a few lights, we recommend the Philips Hue White and Color Starter Kit. After researching more than 25 smart LED light bulbs and testing four finalists, we think it's an easy way to gain more control over your home lighting.
Update: We've reviewed our recommendations, and we're still happy with our top picks.
A versatile smart LED light bulb that's easy to use and supports a wide range of home automation systems. It also has the lowest carbon footprint of our top picks.
The Philips Hue Color and White Starter Kit is a simple, reliable, and easy-to-use way to test smart lighting in your home. The Hue system is one of the oldest smart lighting platforms around, which means they've had plenty of time to work out the kinks. Setup is quick, and the app is pretty intuitive. Plus, a single Hue light bulb and bridge has the lowest carbon footprint of our top picks and consumes 80% less electricity than an equivalent incandescent light bulb.
---
A bright smart LED light bulb that cranks out 1,100 lumens, but also has a higher carbon footprint as a result. Its app, while fine, is not quite as polished as Hue's.
If you need more light than the 800-lumen Philips Hue light bulbs can produce, then consider the LIFX Color A19. It produces 1,100 lumens of light (about as much as a 75W incandescent). It doesn't need a hub, which has its upsides and downsides. Though the LIFX app was relatively easy to use, we didn't think it was as intuitive as the Philips Hue app, especially if you're managing more than one light bulb.
---
A simple smart LED light bulb without color effects, but one that still can change its light temperature. Like it's big brother, the app works well, though it's not as refined as the Hue's.
Not sure if you're ready to go all in on smart light bulbs? The LIFX Mini Day & Dusk is a great light for beginners. You can adjust the color temperature of the bulb with the app, and it integrates with Amazon Alexa, Apple HomeKit, and Google Home. It also connects to your home's WiFi, meaning there's no upfront investment in a hub.
Why these are the most climate-friendly smart light bulbs
Though each of our top picks consumed far less electricity than an equivalent incandescent light bulb, the Philips Hue was clearly the winner. It's hub-based system required less standby energy than the LIFX WiFi chips, which gives the Hue bulbs an edge when you consider an entire year's worth of carbon emissions. For each light bulb, we considered only the emissions from their use since those from manufacturing are 3% or less of total lifetime emissions.
Methods and Results
Why trust us
I spent a semester studying lighting and other building technologies in MIT's architecture department as part of a fellowship, and I've started turning my own house into a smart home. I also spent two days researching smart LED light bulbs and several weeks testing the finalists at home. For added extra perspective, I spoke with Dan DiClerico, home expert and smart home strategist at HomeAdvisor and former senior home editor at Consumer Reports.
Who should get this
Smart LED light bulbs are a simple way to try out home automation without having to call an electrician—just screw in the bulbs and, if necessary, plug in the hub. From there, its easy to set lighting schedules, tune their colors, or control them using one of the big three voice assistants—Alexa, Google, and Siri. Hands full? Just tell your voice assistant to turn on the lights.
These light bulbs can also make a home safer. Most smart lights are easy to schedule, and some offer scripts to turn lights on and off at random times of day to realistically simulate someone at home. DiClerico said that smart lighting also can help seniors remain independent for longer. One in four older people fall in their homes every year, according to the CDC, and one in five falls cause serious injuries like broken bones or head trauma. "There really is a safety component here with automated lighting with motion sensors to automatically light a darkened hallway or stairwell," DiClerico said.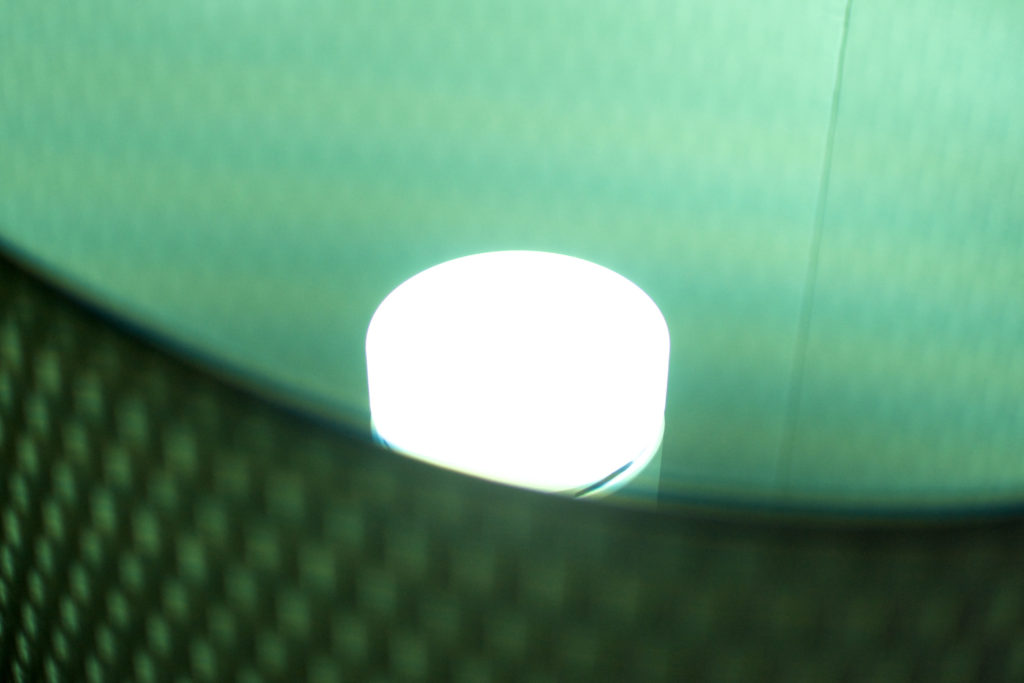 Smart LED light bulbs are also helpful if you have rooms with several lamps and no central switch. It may sound trivial, but it's a small relief to turn on or off three lamps with a single command rather than walking from light to light.
Smart light bulbs are the best option if you rent or aren't sure if smart lighting is for you. They're simple to install and don't require any electrical work.
Upgrading from old incandescents to LEDs is a smart move for just about anyone. They are vastly more efficient than incandescent bulbs, which are still in a majority of homes. LEDs will help you trim your carbon footprint and save money, often in just a few years. Smart LED light bulbs will recoup their cost over incandescents in about six years depending on the price of electricity. LEDs use around 85% less electricity to emit the same amount of light as an incandescent bulb. And they last a lot longer. "Based on my experience at Consumer Reports—it was a very rigorous testing protocol we were following—we saw very little of what I would call premature failure," said DiClerico, the smart home strategist.
LEDs are also easier on the eyes than other energy efficient lighting. High-quality LED light bulbs won't buzz when dimmed, and they don't elicit the same number of complaints as compact fluorescent light (CLF) bulbs. That's because LEDs emit a broader spectrum of light than CFLs, which tended to spike in blue, green, and yellow-orange.
Color-changing smart LED light bulbs give you even more control over your light. While a typical soft-white bulb emits light at a color temperature of 2700K, there are times where you may want something a little closer to sunlight (5000K or above). And for parties or holidays, you can set the mood with various colors.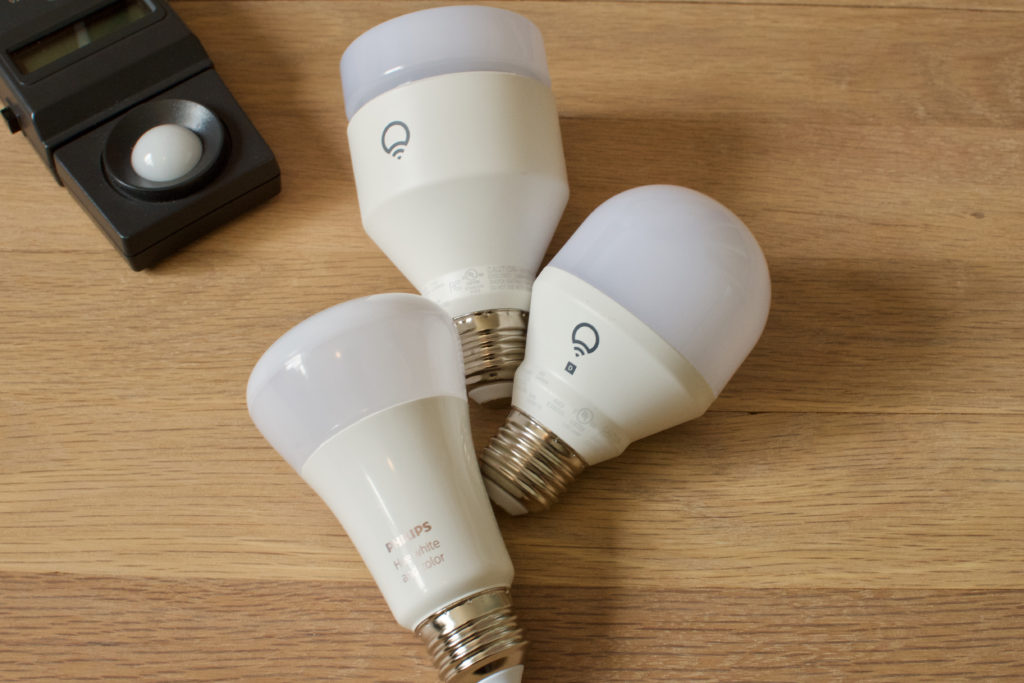 How we decided
We selected our finalists by researching over two dozen smart LED light bulbs, scouring reviews on Amazon, Home Depot, and Best Buy, and seeing which models other trusted publications liked. We also spoke with Dan DiClerico, home expert and smart home strategist at HomeAdvisor and a former senior editor at Consumer Reports who used to review lighting.
When researching and testing, we considered the following qualities:
Light quality and brightness: If a light bulb isn't good at producing light, then what is it good for? This was a top priority in our testing. We also wanted light bulbs that suited our preferences. In our home, we typically like soft white bulbs at around 2700K. But we also considered how bulbs performed casting a cooler light for a home office, kitchen, or bathroom.
Energy consumption and carbon footprint: Since these are connected devices, they will draw a small amount of power as long as they're connected. We calculated annual carbon footprint by assuming each bulb would be on for three hours per day for every day of the year and that the bulb or hub would be in standby mode 24/7.
Reliability: One of the biggest advantages LEDs have over incandescents and even CFLs is their long life. We favored smart LED light bulbs with longer lives, and each of our picks are rated to last more than 22 years (though that number may not always reflect reality—see our LED light bulb guide for more).
Features: Here is where smart LED light bulbs start to distinguish themselves from one another. Some require a hub, whereas others tap directly into your home's WiFi. The apps themselves offer many of the same features, but their ease-of-use varies.
Setup: How many people does it take to set up a smart light bulb? Ideally only one, but each bulb has different apps and a different process. We wanted to make sure setup for each was quick and intuitive.
Expandability and compatibility: Smart home technology is more expensive than the "dumb" equivalent, so we wanted to ensure that our picks would be as future proof as possible by integrating with several different systems, especially Apple HomeKit, Google Home, and Amazon Alexa. That way, if you change from Android to iOS, for example, you won't have to buy all new light bulbs. We also chose smart lighting systems that come in myriad forms—if you want to add a light strip under your kitchen cabinets, for example, you shouldn't be held back by your old setup.
Security: This may feel like an afterthought given that these are "just" light bulbs, but consider that each smart device contains a circuit board. The Philips Hue Bridge, for example, contains a 650 MHz processor. That may not seem like much today, but consider that the original iPhone ran at 412 MHz. A bad actor can do a lot with that. Take the Mirai botnet: In October 2016, hackers used hundreds of thousands of infected Internet of Things devices to unleash record-breaking attacks on various websites and services. Minimize your exposure isn't a bad idea.
How we tested
We researched nearly every type of smart LED lighting available—28 in total—ranging from classic bulb shapes to tiles and strips. For the four models we tested in our home, we purchased them directly through regular retail channels. During testing, we looked at color, white, and so-called "ambiance" or "day and dusk" bulbs that can tune their light temperature from warm to cool. We were initially skeptical of color changing bulbs because, let's be honest, how often have we wanted to sit in a green-lit room? But after weeks of use, we were won over by their flexibility.
We also tested how quickly and easily the light bulbs were to set up, how reliably they responded to voice and app commands, and how easy their apps were to use.
We've heard reports of bulbs dimming after being on for a while. Excess heat causes LEDs to produce less light, and all electronics produce heat. So for each of our top picks, we measured their real-world light output by installing each bulb into the same hanging fixture in a darkened room. We set the color temperature to 3000K and then placed an illuminance meter 15" directly under the bulb. We measured light levels immediately after turning on each bulb and again after 30 minutes.
(Note: We tested illuminance, which is different from luminous flux, which is what the manufacturers report on the box. Luminous flux, measured in lumens, is all the light emitted by the bulb in every direction. Illuminance, measured in lux, is the amount of light captured at a single point, in this case our meter. So while our measurements won't match the rating on the box, they will help you compare how much dimming these light bulbs will experience in the real world.)
A versatile smart LED light bulb that's easy to use and supports a wide range of home automation systems. It also has the lowest carbon footprint of our top picks.
Why we like it
The Philips Hue White and Color Starter Kit is a great way to get into smart lighting without too much commitment. We found it to be fast, reliable, and easy to use. They produced some of the most light per watt, and they had very low standby power use. Setup was a breeze, and we liked how easy it was to group bulbs so several could be controlled with a single command. And if you decide you like the Hue system, there are plenty of ways to add on, from light strips to outdoor floodlights, candelabra bulbs, even suspension lamps.
The system uses a device called a Hue Bridge to connect each bulb to your home network. We were fans of this approach. For one, it makes setup a simple process, and adding new devices to the network is even easier once the bridge is up and running. The bridge and the bulbs communicate using the Zigbee protocol. They operate on some of the same frequencies as WiFi (bands in the 2.4 GHz range), but instead of tapping into your WiFi, they form their own mesh network. It gets stronger as you add more devices because each new bulb becomes a "router" on the Zigbee network, relaying signals from the coordinating hub. With WiFi-only bulbs, if your wireless network doesn't reach a room, you're out of luck.
Bridges have other advantages. For one, the bridge acts as an intermediary between the light bulbs and the internet, reducing the number of devices a bad actor can attack. It also minimizes the risk from easily hacked default passwords, like the kind exploited in the Mirai botnet mentioned above. While no device is perfectly secure, the fewer that are exposed directly to the internet, the lower the risk.
We also liked that you could install a Hue light bulb and bridge without setting up an account with Philips first. Forgoing an account does limit what you can do—you can only control them when you're connected to your home's WiFi, for example—but it's nice to have the option.
Why you can feel good about it
When it comes to security, a brand name like Philips may mean something, too. "As a general rule, with smart home technology, you're better off going with a the bigger, more established brands," DiClerico said. "More established, big brands are going to most likely offer products that have all the latest security features and are going to be around for years and years."
Furthermore, the protocols Hue uses were designed for low-power systems, meaning that each bulb draws less power on standby. The Hue Bridge itself only draws 0.1 W in standby mode, and each bulb draws 0.2 W. Combined, that's less standby power than a WiFi smart light bulb, which typically draws 0.5 W at idle.
A single Philips Hue White and Color light bulb with its required Bridge will produce 21.16 pounds of CO2 annually, compared with 102.42 pounds for a 60 W incandescent, an 80% reduction in carbon footprint. Each additional Hue color bulb adds just 19.8 pounds of CO2 per year.
The footprint of the packaging was pretty minimal, too—just thin cardboard and a piece of plastic for hanging on store hooks. It's all easily broken down for recycling, and the plastic comes free without fuss.
Finally, the Hue light bulbs were the most consistent performers in our illuminance tests, dimming just 1.2% after 30 minutes of continuous use. That's way to small to notice.
Who else likes it
Philips Hue smart LED light bulbs are a top pick for a number of other expert reviewers. Grant Clauser at The Wirecutter says that Philips Hue offers "the best bulbs for people who want a smart lighting system that's easy to use, extremely reliable, and easily expandable." Paul Lamkin at The Ambient agrees, saying it's "still the best in our eyes." PC Mag made the starter kit an "editor's choice."
What could be improved
In our testing, there were a few things we'd like to see improved. While it's easy to set up new "scenes" in the Hue app with varying colors and levels of brightness, you can't animate them. To do that requires a trip to the Hue Labs section of the app, where you can install different formulas. Some are quite advanced, but there's only so much you can tweak before you either need to be a developer or pay for a third-party app.
If you're looking to buy just one bulb, then you'll have to purchase the Bridge separately. You're better off buying one of the starter kits, which include the Bridge either for free or at a significant discount. The hitch is that you have to buy at least two bulbs.
Another issue—one common to all smart light bulbs, apparently—is that after power is restored after an outage, the lights turn on, even if they were off before the outage. You can set a custom color and brightness in the app for these situations, but you can't set it to remain off. As a result, we'll never use them in a bedroom, which limits their appeal. We'd prefer if smart light bulbs took a cue from some smart light switches, which after an outage return to their previous state.
A bright smart LED light bulb that cranks out 1,100 lumens, but also has a higher carbon footprint as a result. Its app, while fine, is not quite as polished as Hue's.
Why we like it
We took a liking to the LIFX Color A19 and it's bright, customizable light. This LIFX bulb is rated for 1,100 lumens, which means it's a replacement for 75W incandescents. The added brightness helped distinguish it from our top pick, the Philips Hue White and Color bulb. In our home office, which has a small overhead light, the LIFX Color A19 makes our workspace brighter and more appealing. Plus, its tunable color means we can pick a cooler setting to match the daylight from the window and then shift to a warmer tone as the sun sets.
The LIFX app was straightforward to use. Setting schedules is easy, and creating a dawn-to-dusk routine where the light temperature mimics sunlight is much easier than in the Hue app. We also liked how easy it was to animate the lights. If you're going to spring for a color bulb, you might as well be able to have fun with it.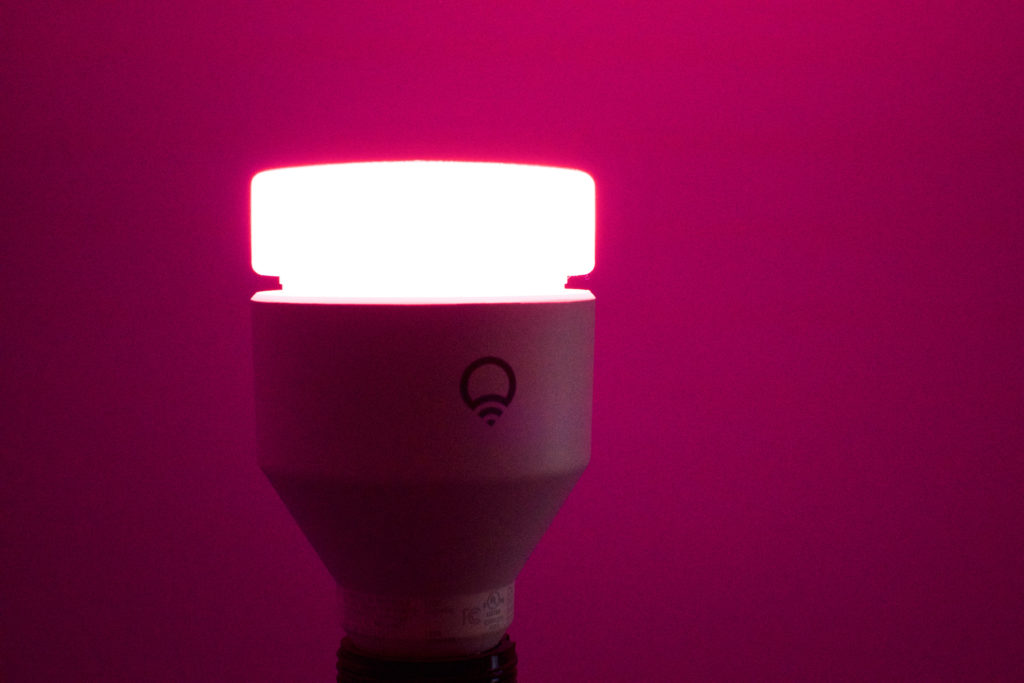 LIFX bulbs connect directly to your home's WiFi instead of using a hub or bridge like the Hue system. There are a few advantages: For one, you don't have to plug in another device to your internet router. If you want just one bulb, you don't have to fork over extra for the bridge. And for some people, there's also the nostalgic appeal of just screwing in a light bulb without installing a hub.
WiFi-only smart light bulbs have some disadvantages, though. They use significantly more power in standby mode. Drawing 0.5 W in standby, the LIFX Color A19 bulb used more power than a Philips Hue light bulb and bridge combined. Also, if you don't use Apple's HomeKit, setup through WiFi can be more challenging. To connect LIFX bulbs to Google Home or Amazon Alexa, you have to first make sure they're connected to your LIFX account. To do that, you have to make sure the bulbs are connected to your home's WiFi. It's not difficult, but it's not as straightforward as the Hue.
There are also added security concerns with smart light bulbs that connect directly via WiFi. As you connect more bulbs in your home, you increase the number of devices a bad actor can target. The likelihood of one of your bulbs being hacked is low, but it is something to consider if you're concerned.
Why you can feel good about it
The LIFX Color A19 is the best smart LED bulb that can replace a 75 W incandescent. Even with the relatively high standby power draw, it will produce only 25.6 pounds of CO2 per year, compared with 128 pounds for an equivalent incandescent, a reduction of 80%.
What could be improved
The LIFX Color A19 bulb, while brighter than most other smart LED light bulbs, dimmed significantly after being on for 30 minutes. When first turned on, we measured 2220 lux at a distance of 15". After half an hour, it had dimmed to 2020 lux, a drop of 9% and the most of any of our top picks. It's possible that the bulb's brightness is working against it—generating more heat, which then causes more dimming—but we'd still like to see less of a drop.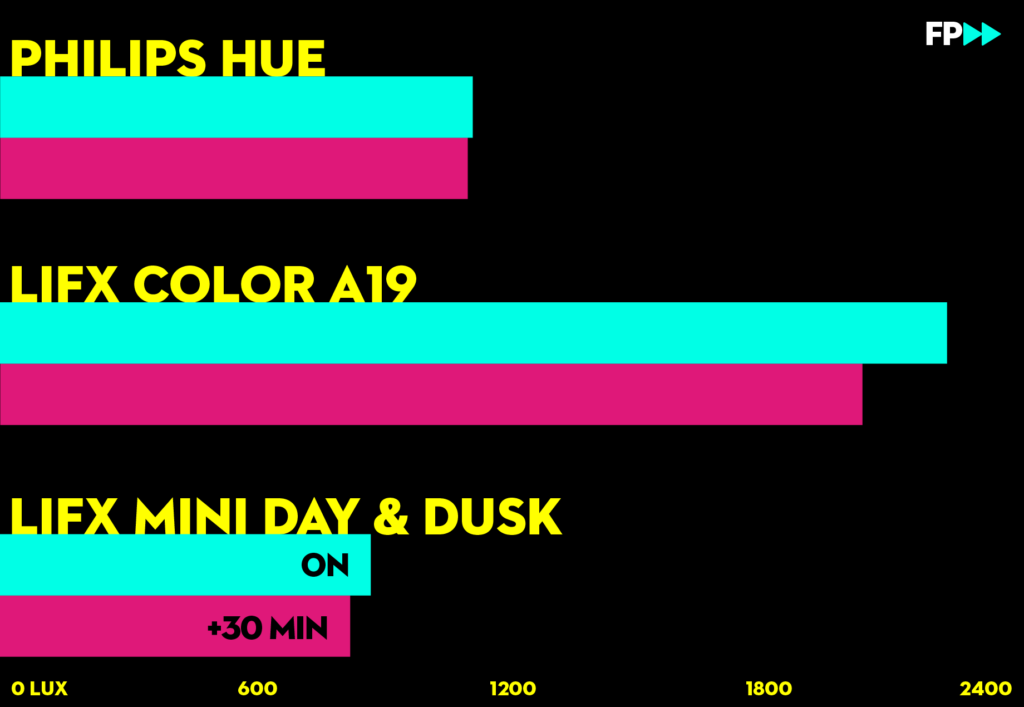 We also found the app to be a little more fiddly than the Hue app. It wasn't as intuitive to group lights into a single fixture or room. We also would have liked to be able to schedule changes in the light temperature without setting a schedule to turn the light on and off. That way if we're coming and going, we can turn it off and on ourselves but still have the mood set accordingly.
Lastly, the LIFX packaging, while clever, leaves a lot to be desired in terms of recyclability. The exterior is cardboard, but inside are two foam pieces to hold the light bulb in place. Neither is easily removed, and we can see that being a problem at recycling facilities.
A simple smart LED light bulb without color effects, but one that still can change its light temperature. Like it's big brother, the app works well, though it's not as refined as the Hue's.
Why we like it
We liked the simplicity of the LIFX Mini Day & Dusk bulb. If you're looking for an inexpensive, reliable smart LED light bulb that can adjust the temperature of its light, this is the one for you. It casts a pleasing light no matter the time of day. We've been using it in our home office, and we like how it can shift from a cooler light during the day to a warmer light in the evening.
The LIFX Mini Day & Dusk also has the most "normal" bulb shape of our top picks. Where Philips Hue bulbs are a modern interpretation of an old Edison shape, and the LIFX Color A19 emits light from a flattened cylinder, the Mini Day & Dusk has a rounded top that's closer to most incandescents. If you prefer that look, or if you have a fixture where the shade attaches to the bulb, this should be at the top of your list.
Plus, because it's not a full-color bulb, the Mini Day & Dusk is also cheaper than our other picks while retaining some ability to change its color.
Why you can feel good about it
Though the LIFX Mini Day & Dusk light bulb produces 800 lumens—similar to the Hue lights—its reliance on WiFi means it's more power hungry in standby mode, drawing about 0.5 W as opposed to 0.2 W for a Hue light bulb and 0.1 W for the Hue Bridge. That may not seem like a lot, but because it's drawing 24/7, it adds up. The LIFX Mini Day & Dusk produces 22.2 pounds of CO2 per year, about 2.4 pounds more than a Philips Hue but 80.2 pounds less than an 60 W incandescent.
What could be improved
When used continuously for 30 minutes, the LIFX Mini Day & Dusk light bulb dimmed less than its bigger sibling, the LIFX Color A19, but more than the Philips Hue. It dropped 5.5% in 30 minutes, from 870 lux to 822 lux. That's probably not enough to be noticeable, but it's still higher than we'd like.
The other downsides mirror those of the Color A19 above—setup is harder than with Hue, there are some security considerations with WiFi-connected bulbs, and the app is more fiddly than we'd like.
The packaging has the same issues as the LIFX Color A19 light bulb, too: the foam inserts that protect the goods are hard to remove, and that will probably create issues at recycling facilities.
The competition
Sengled smart LED light bulbs were contenders for the budget pick, but in the end, their lack of HomeKit support doomed them. The app was perfectly fine, but you couldn't control the lights using Siri. That's a red flag for us—we would like to see HomeKit support in addition to Google Home and Amazon Alexa. Switching phone operating systems isn't unheard of, and we don't like the idea of people having to buy new lights to achieve the same level of integration with Siri that they had with Alexa, for example.
C by GE was another possibility—GE has been in the light bulb game since the beginning, and we liked the fact that you could use them with or without a hub—but they received poor reviews from other users.
Cree Connected LEDs are inexpensive for smart light bulbs, and apart from their cooling vents at the top and bottom, they look very similar to typical incandescent bulbs. The downside is that the require a hub, which Cree doesn't sell. That means you have to decide which hub you like, buy it separately, and figure out how to connect it. It's not an insurmountable hurdle, but it's not terribly elegant either.
Eufy Lumos light bulbs are relatively inexpensive, too, and they don't require a hub. But like Sengled, they don't work with HomeKit, limiting your options in the future. Sylvania Smart light bulbs do support HomeKit, but it depends on which you buy. The Bluetooth model supports HomeKit, the Zigbee version supports Amazon Alexa and Google Home. Once you buy, you've locked yourself into one system.
Ikea Trådfri is a system to keep an eye on. Reviews are mixed, and you have to live near an Ikea to make the low price worth it, so we couldn't recommend it for most people. But if you do live near an Ikea and you already have a Zigbee-combatible bridge (like an Amazon Echo Plus or a Philips Hue Bridge), then you may want to give it a shot. Ikea's generous return policy means that if they don't work out for you, you can take them back for a full refund.
And after all that, if you're still not sold on smart light bulbs, then consider a regular LED light bulb. We've researched and tested a number of them with the same methods used here.
What else we discovered
These light bulbs are the result of the great strides LEDs have made in the last decade. First developed in the early 1960s, LEDs were largely relegated to small displays like those found on calculators or VCRs. That all changed in the early 1990s when Shuji Nakamura invented a blue LED that was bright enough for lighting. When shone on compounds known as phosphors, the light from blue LEDs shifts in color to simulate the pleasing yellows of incandescent bulbs.
Because they produce less heat, LEDs also last longer, though incandescents might have achieved a longer life if it weren't for the Phoebus cartel. In the 1920s, major lighting companies formed a cartel that, among other things, mandated a 1,000 hour lifespan. It's the first example of planned obsolescence.
Notes
We calculate carbon footprint of energy use according to the most recent data from the U.S. Environmental Protection Agency. Their models say that every kWh of electricity produces 1.559 pounds of CO2.
Sources