If you're looking for an energy-efficient new TV with excellent picture quality, we recommend TCL 5-Series. It's a great balance of quality, efficiency, and price.
Update: We're in the process of revising our recommendations. Stay tuned.
With a great picture and slim profile, the TCL 5-Series is an energy-efficient 4K TV at a great price.
The TCL 5-Series (available in popular 55" and 65" sizes) is an excellent 4K LED TV that's surprisingly energy efficient. Its picture is sharp and bright, and the blacks are decently deep for this type of display. It comes with the Roku interface built-in, and there are three HDMI ports to connect other media sources like a cable box or Apple TV.
---
The TCL 3-Series 49" TV deftly balances size with energy efficiency, using over 30% less electricity than 4K 55" TVs.
Though it's just 6" smaller than popular 55" models, the TCL 3-Series 49" TV manages to significantly undercut their energy use by trading 4K resolution for 1080p. But you're not missing much—at this size, you'd have to sit pretty close to notice the difference. The picture quality is good, especially considering the price, and it comes with built-in Roku TV and three HDMI ports if you want to use your own streaming box.
---
Thanks to OLED technology, the LG B8 has one of the best pictures on the market while still being energy efficient.
The LG B8 stands above almost all other TVs in its size classes—with the exception of other, more expensive LG OLED TVs. The picture quality is truly impressive, with bright, vivid colors and deep, rich blacks. It has four HDMI ports and LG's own webOS platform for streaming apps. We're recommending this one over the newer B9 because it's about 12% more energy efficient.
---
If you've got a smaller space, or if you're not into big TVs, the TCL 3-Series 40" is a great option.
The TCL 3-Series 40" is an excellent TV given its small footprint and low price. Not everyone wants or has the space for a large TV, and if you're one of those people, you'll benefit from saving money both up front and in the long run. The TCL 3-Series's 40" display runs at 1080p instead of the power-hungry 4K resolution, lowering your energy bills. And since 4K content tends to be more expensive than regular HD versions, you'll save there, too.
Why these are the most climate-friendly TVs
Watching TV contributes between up to 85% of its total carbon footprint, so picking an energy efficient model is an effective way to help slash your emissions.
TVs used to be monsters. The CRT models we watched for decades were huge, heavy, and consumed massive amounts of energy—the average CRT was 27" and used about 100 W of power when on and 4 W when off, according to a Fraunhofer Institute report. A typical CRT produced 339 pounds of CO2 per year. If you wanted a bigger screen, you had to get a rear-projection TV, which used even more power and pumped out about 60% more pollution.
Today's TVs are relatively efficient. Our top picks produce significantly less CO2 than a typical CRT while being significantly larger.
If you're looking to minimize your footprint beyond electricity consumption, there is more you can do. For one, size matters. That's why our Eco+ pick is a modest 49". "If you have a larger TV, you have more material and more circuitry," said Jonathan Krones, an industrial ecologist and visiting assistant professor at Boston College, and that impacts the amount of materials and energy used to make it.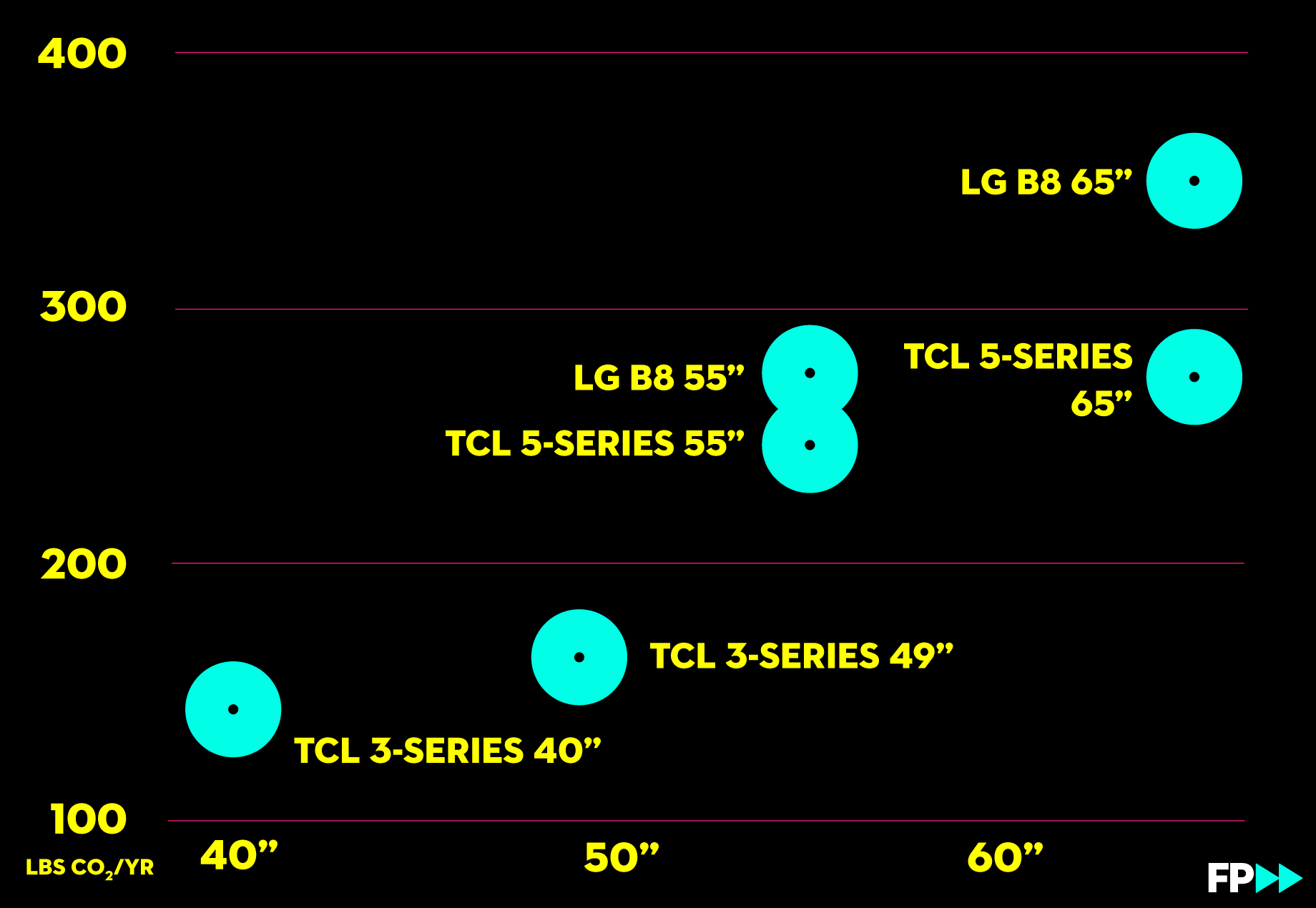 Longevity is another thing to consider. "Product lifetime is a really big driver of actual impact of our use of these things," Krones said. "If you have a TV that lasts four years, then you can afford twice the upstream impact than if you had one you replaced every two years."
To get the longest life out of your TV, you'll want to find a model that's durable and easily repairable. Features can also be important to longevity—are you buying a TV that not only will meet your needs today, but also five years from now? Since 4K TVs only recently became mainstream, and 8K TVs are still far from commonplace, a purchase today will probably be fairly future proof.
Methods and Results
Why trust us
We spent several days researching dozens of different TVs and poring over hundreds of reviews, and we spent several hours comparing the finalists in person. We also spoke with Jonathan Krones, an industrial ecologist and visiting assistant professor at Boston College, about the impacts of electronics manufacturing on our carbon footprints.
Who should get this
Televisions aren't a necessity like a refrigerator, but that hasn't stopped 97% of American households from buying one. It's not a bad time to own a TV, either. Many critics are calling this a golden age of TV, with companies like Netflix, Disney, Amazon, Hulu and more offering an incredible variety of on-demand entertainment.
If you have a TV that's more than ten years old, now is a good time to consider a new set. The picture quality is almost certainly better than your old model, and prices on sets with the latest features, including 4K and HDR, have come down significantly. You can find a great TV for under $500 today, and if you're replacing a CRT, you'll likely lower your footprint.
If you're upgrading just to get 4K, though, you may want to evaluate your setup first. At a comfortable viewing distance of six feet or more, most people won't be able to tell the difference between 4K and HD in TVs 50" or smaller. Bigger screens and closer viewing distances will change the math, of course. Rtings has a great chart that could help you with your decision. It breaks down the relationship between viewing distance, TV size, and resolution.
Also consider what content you have on hand. Buying or streaming 4K movies and shows usually—though not always—costs more than HD. Depending on which streaming service you use and price you pay, you may already have access to 4K, or you may not. Regardless, all of our picks are good at displaying regular HD content.
How we decided
There are plenty of good TVs out there, but not all of them are great. To find the great ones, we researched over two dozen TVs, read hundreds of reviews, and spoke with Jonathan Krones, an industrial ecologist and visiting assistant professor at Boston College. We also spent hours watching our finalists to get a feel for their performance
When picking, we considered the following criteria:
Picture quality: We preferred TVs that displayed colors that were vivid without being oversaturated and blacks that were deep, not grey. We watched closely for any blurring during fast motion, and we watched at off angles to make sure the picture remained true.
Energy use: Since watching TV contributes a significant portion of the device's overall carbon footprint, we looked for models that outperformed their peers in the same size class.
Size and resolution: We didn't just look at 4K TVs—it's possible 4K doesn't make sense given the size of your room, or maybe it doesn't fit your budget. When making our picks, we optimized for size and resolution.
Design: Since most people's TVs sit in a conspicuous spot, we preferred models that looked good both on and off. We like understated designs with slim chassis since thinner models are easier to tastefully mount on a wall. We also preferred TVs with matte bezels—shiny bezels can distract from the picture.
Features: Nearly every TV today is sold with some streaming platform built-in. We didn't weigh this too heavily, though. Buying a streaming box is easy and cheap, and they tend to perform better than built-in platforms. Yes, it's another thing to purchase, but if the streaming box dies, you don't have to get an entirely new TV. Plus, apps on streaming boxes tend to be updated more frequently.
What about sound? We didn't include it in our evaluation here because, frankly, most flat-panel TVs don't sound great. They don't have a lot of space to fit good speakers, and for aesthetic reasons, most manufacturers point them downward instead toward the viewer. There's a simple solution, though: hook up some speakers you already own or buy a basic soundbar. The difference is striking.
Lastly, a note: We didn't test these in a controlled setting—we're not set up for that currently. Instead, after hours of research and interviews, we viewed them in stores to make in-person assessments.
With a great picture and slim profile, the TCL 5-Series is an energy-efficient 4K TV at a great price.
Why we like it
The TCL 5-Series is known to be a very good TV at a very good price, so we were pleasantly surprised that it was also one of the most efficient 55" and 65" 4K models available today.
Colors look great, and there's very little blurring during fast motion or quick pans. It supports HDR and a wide gamut for richer colors, and while its HDR implementation isn't as good as more expensive TVs, it's hard to beat at this price.
The TCL 5-Series has a thin chassis, a boon for those of us who like to wall-mount our TVs. Its thin, matte black bezel doesn't distract from the picture on the screen, and the screen itself doesn't reflect much of its surroundings, which helps in a bright room.
It also comes with four HDMI ports, a coaxial input, a USB port, an ethernet port, an analog audio input, and separate optical and analog audio jacks. That's more than enough for most homes—you can plug in a cable box, a streaming box, and a game console with room to spare.
Why you can feel good about it
The TCL 5-Series is the energy-efficiency champ among the 55" and 65" models we researched. It expends fewer watts per inch of screen size than other 4K TVs, and in our research, it was bested only by standard HD TVs, which have far fewer pixels to light. In one year, watching the 55" model five hours per day will produce 246.3 pounds of CO2, while the 65" model will produce 272.8 pounds of CO2.
The LED backlight is part of what makes the TCL 5-Series so efficient. Just as light bulbs have shifted from fluorescents to LEDs, TVs have made the change, too. And also like light bulbs, they're reaping the benefits. Beyond the boost to energy efficiency, LEDs are brighter and last longer than cold cathode fluorescent lamp backlights. LEDs are also more responsive, and when you turn them on, they don't have to warm up to reach full brightness. Unlike fluorescent lights, LEDs do not contain mercury, which makes disposal easier and safer.
Who else likes it
The TCL 5-Series isn't just a good energy-efficient TV—it's a good TV, period. At Reviewed.com, Michael Desjardin says the TCL 5-Series produces "a picture that, simply put, looks damn good. It ain't great, but it's damn good for what it is and how much the TV itself costs." Rtings gives it a 7.5 out of 10, a respectable score at the data-driven site. PCMag calls it "excellent," and The Wirecutter made it their "Best 4K TV on a Budget."
What could be improved
There are a few things to consider, of course. Some reviewers think that the TCL 5-Series has a narrow viewing angle, though we didn't find it to be an issue. Second, it isn't as bright as the 6-Series, so if you have a bright room, you may want to consider an upgrade. That said, the 5-Series's lower brightness may help it keep its energy use low. Keep that in mind. Lastly, the widely spaced feet that hold the TV upright means that, unless you use a wall mount, you'll need a piece of furniture that's almost as wide as the TV itself.
The TCL 3-Series 49" TV deftly balances size and picture quality with energy efficiency, using over 30% less electricity than 4K 55" TVs.
Why we like it
In the many circumstances, the TCL 3-Series 49" TV gives 55" models a run for their money. When sitting at a comfortable distance, most people won't be able to distinguish its HD resolution from a larger TV's 4K display. And if you can make do with a 20% reduction in screen size, you'll use at least 30% less electricity and save at least $100 on the set itself.
The 3-Series's lower energy use is largely due to its HD resolution. 4K TVs achieve their resolution by packing more pixels in the same area. Each pixel is a tiny box supported by a lattice of thin wires. The more pixels, the denser the wiring, the brighter the backlight needed to illuminate the image.
With HD, you're not sacrificing much at this size. The image still looks sharp, the colors are good, and HD content looks great with only a hint of fuzziness when things speed up. The 3-Series has three HDMI ports, a USB port, a coaxial input, optical and analog audio jacks, and an analog audio input.
Why you can feel good about it
The energy efficiency! It's hard to find a TV this big that uses less power. In a year of typical use—five hours per day—the TCL 3-Series 49" will produce just 163.7 pounds of CO2. That's more than 30% less than our top pick, the TCL 5-Series, which is already significantly more efficient than its peers. Plus, it uses an LED backlight, so there's no mercury-laced fluorescent lighting to dispose of when it's reached the end of its life.
Who else likes it
David Katzmaier at CNET says, "If you want an affordable TV smaller than 50 inches, the TCL S325 series Roku TV should be one of your first choices." At Best Buy, customers gave it an average of 4.6 stars out of 5 in 401 reviews.
What could be improved
The TCL 3-Series 49" has the same widely spaced feet as other TCL models, so you'll need a wide media console to support it. If you want to wall mount it, the chassis is rather thick, so it will stick out farther than other, more expensive models. Its three HDMI models are plenty for most households, but it doesn't leave you much room to expand.
Thanks to OLED technology, the LG B8 has one of the best pictures on the market while still being energy efficient.
Why we like it
The picture quality on the LG B8 is truly incredible. Its bright, vivid colors aren't oversaturated, and they're complemented by perfect blacks. Motion is smooth, even when things start moving fast, thanks to its 120 Hz refresh rate. And the picture looks good from just about any angle.
It's all the result of OLED display technology, which turns on individual pixels only when they're needed. That helps produce natural blacks and an infinite contrast ratio, adding up to a pleasing, efficient display.
The B8 is the entry to LG's OLED lineup, but even at the "bottom," you're not sacrificing much. The next step up, the C series, costs hundreds of dollars more, and we're not convinced you get that much more for your money. Many experts admit the two are nearly indistinguishable.
The B8's design is sleek and understated. The picture is surrounded by a black border that sits beneath the screen's glass, which is bounded by a thin plastic frame. The TV's brain resides in a relatively thin strip behind the bottom of the display, allowing the top to be strikingly thin. In fact, it's so thin that you have to be careful when moving it. The base itself has a brushed metal finish, and it's narrow without being unstable.
The LG B8 won't leave you wanting for ports. It has four HDMI ports, three USB ports, composite video and audio jacks, a coaxial port, an ethernet port, and an optical audio port.
Why you can feel good about it
The LG B8 uses around 20% less power than many other high-end sets. Still, it does use more power than our other picks. That's because displaying HDR colors at 120 Hz is energy intensive. HDR is particularly hungry because it requires very high brightness to achieve the necessary contrast ratio. If you want to save power, you can always turn down the peak brightness.
Who else likes it
LG's OLED TVs are nearly universally praised. "The LG B8 performs impressively well in almost every usage," Rtings said. "It is great for movie watching in both SDR and HDR content. It has remarkable motion handling and low input lag that will satisfy gamers and sports fans." Over at CNET, David Katzmaier said the B8 "has spectacular image quality, second only to LG's more-expensive OLED TVs among models we've tested."
What could be improved
There are two downsides to OLED displays, both of which will be relatively minor for most people. For one, OLEDs don't get as bright as the brightest LED TVs. If you watch during the day in a sunny room, you'll want to keep this in mind. The second is that OLEDs are susceptible to burn-in, where static elements like a channel's logo leave permanent shadows on the screen. But to get an OLED TV to experience burn-in, you'll have to watch thousands of hours on channels with static elements, according to testing by Rtings. They have been testing OLEDs for burn-in for nearly two years. If you're worried about it, consider an LED TV. But for the vast majority of people, burn-in likely won't be an issue.
If you're not into big TVs, or if you've got a small space, the TCL 3-Series 40" TV is a great option.
Why we like it
For a budget TV, the TCL 3-Series 40″ is hard to beat. Picture quality is good for the price, and while the chassis is a bit thick, the design is tasteful. The bezel, though a little shiny, isn't distracting. The TV doesn't offer 4K, but at this size, HD at 1080p is more than enough for most people.
It also has three HDMI ports, one USB port, a coaxial plug, optical and analog audio, and a composite video input. That's a pretty good selection at this price point. Plus, it has Roku software built-in so you don't have to buy a streaming box.
Why you can feel good about it
The 3-Series's small size and HD resolution pays dividends when it comes to its in-use carbon footprint. At 143.4 pounds of CO2 over a year of use, it was the lowest of our finalists.
What could be improved
The picture quality isn't as stellar as other, more expensive TVs, but for the price, it's not bad. The plastic legs on the base are set wide, which helps stability but means you have to own a media center that's wide enough to accommodate it.
The competition
There are plenty of competitors at each size and price class, many of which offer comparable or slightly better picture quality. However, we didn't think the difference in picture quality was noticeable enough to outweigh their significantly larger carbon footprints. We calculated the annual footprints for 65" models of several competitive models.
One year spent watching the TCL 6-Series for five hours per day produces 483.3 pounds of CO2 per year, a 43% increase over the 5-Series. Others are significantly higher still, like the Hisense H9F, which has a footprint of 514.5 pounds of CO2, and the Vizio M-Series Quantum registers at 551.9 pounds. At the higher end, one year with the Vizio P-Series Quantum produces a whopping 793.5 pounds, while the Sony X950G weighs in at 500.4 pounds.
What else we discovered
CRTs are the incandescent bulbs of the display world—literally and figuratively. Inside, their electron guns use a heated filament (just like incandescent light bulbs) to cast off a stream of electrons to paint the picture. LCDs, on the other hand, use solid-state electronics, which are vastly more efficient. Newer LCD models have ditched the fluorescent backlights for LEDs, which are more energy efficient than fluorescent backlights. Another new tech, OLED, doesn't need large backlights at all, instead turning on only the pixels needed for each frame.
Despite the advances, though, energy consumption in TVs has recently ticked up slightly. That's due in part to two new features—4K resolution and HDR, or high-dynamic range. With the right TV, both can deliver stunning images—4K by quadrupling the resolution and HDR by displaying more colors at higher contrast. To achieve those advances, though, LCD TV manufacturers have had to crank up the backlights to push more light past more transistors (or, in the case of OLEDs, pump up the brightness of each pixel).
Notes
We calculate carbon footprint of energy use according to the most recent data from the U.S. Environmental Protection Agency. Their models say that every kWh of electricity produces 1.559 pounds of CO2.
Sources
Babcock Adam, Alexander Tozzi, Yannick Khong. "TCL 5 Series/S525 2019." Rtings, September 27, 2019.
Desjardin, Michael. "This 4K HDR TV Is Perfect If You Don't Want to Spend a Lot of Money." reviewed.com, July 1, 2019.
Greenwald, Will. "TCL 55S517." PCmag, March 19, 2019.
Heinonen, Chris. "The Best 4K TV on a Budget." The Wirecutter, November 6, 2019.
Katzmaier, David. "LG OLEDB8P series review." CNET, October 31, 2018.
—. "TCL 325 series (2019 Roku TV) review." CNET, February 10, 2019.
Krones, Jonathan. Phone interview. October 6, 2019.
O'Keeffe, Daniel. "Real Life OLED Burn-In Test on 6 TVs." Rtings.com, November 15, 2019.
O'Keeffe, Daniel, Eric Bousquet, Ian Cumming, Bruno St-Georges-Robert, Dimitris Katsaounis, Yannick Khong. "LG B8 OLED." Rtings.com, July 13, 2018.